As I stood there watching those drops falling downhill, I could feel how powerful they are, with no beginning, with no end, they are moving like they don't care about who is watching them. The serenity, the peacefulness in the noise of the fall is something I could give away anything in the world for.
180 away from the Busy Bangalore lies a beautiful waterfall which is not just a scenic amazement but also a great place for a short one day picnic with  friends or family.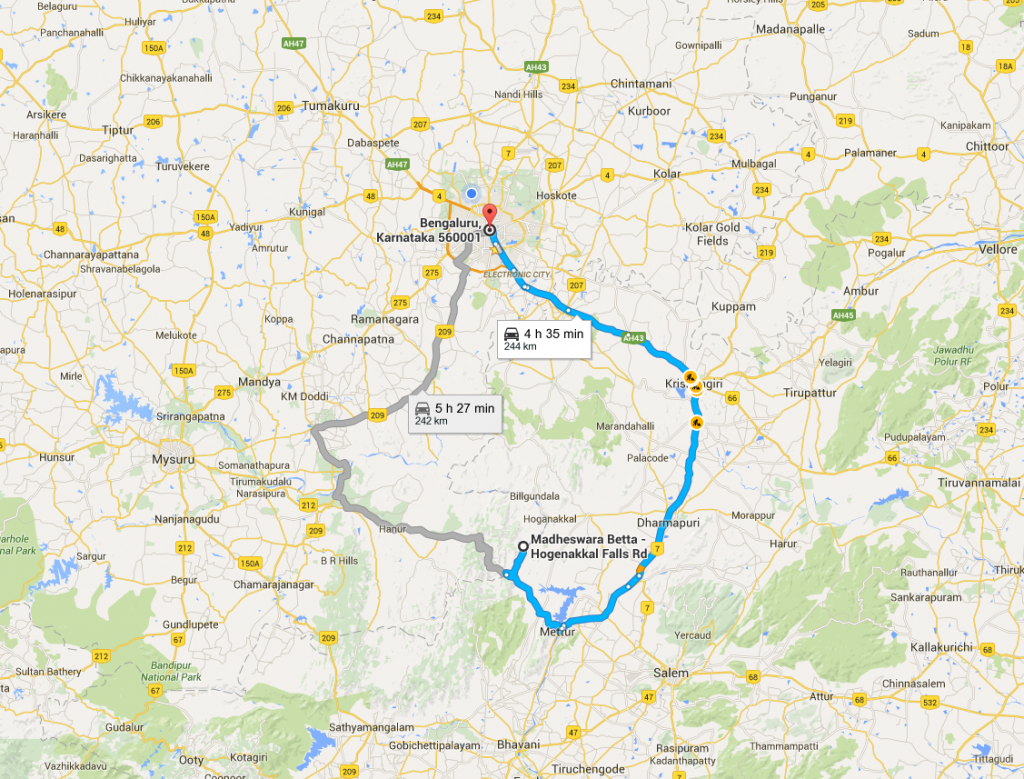 We were 4 so we took a car from Bangalore and left at around 7 A.M from Madivala. Leave as early as possible so that you can spend more time there. As you can see in the map, there are two routes that take you to the Falls, we took the one in Blue because we heard the other route has bad roads. With our route we reached our destination by 9:30 AM. We drove quite fast!. The roads were amazing, thanks to Tamil Nadu government. Make sure you take a two way ticket on tolls wherever possible.
The places on the way to Hoganekkal were far more beautiful than our destination. Its a real treat for photography lovers. Its filled with beautiful villages, farms, hills, lakes, huts and wineyards. We stopped near one of the wineyard to buy some cheap grapes from the farmer. Do stop at few places to enjoy the fresh air.
What to take?
A soap, towel, shampoo, an extra pair of undergarments and some cash. If you are a male then you don't want to miss taking bath under the waterfall. Ladies have a different bathing place which I don't think they would like.
What to do there?
The moment you reach there, you would be approached by dozens of people offering an oil massage. That seems like the primary occupation of the locals there. Do give it a try. There will be some women who would approach you offering to cook you fish. If you love fish then its your call, you wont be disappointed. Those ladies know how to make the best fish you would have ever had in your life. But don't just say yes so soon, there will be time for fish later. For start you can get yourself an awesome oil massage from a professional. You would hear everywhere the sounds of Masseur slapping peoples belly and head and their friends laughing their lungs out. These Masseurs are going to please every nerve in your body for just Rs. 200/-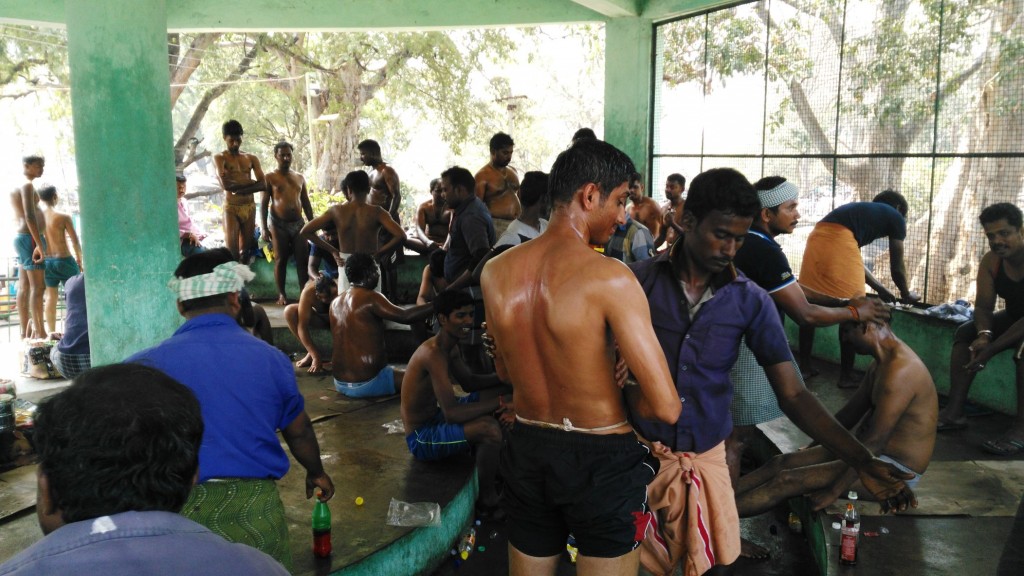 Right after the massage head towards the waterfall. You will see literally hundreds of half naked men out there under the fall but that doesn't mean you would not be able to enjoy the running water. No one is sitting there for the whole day, so everyone gets a chance to be under the running stream. The water is fresh and isn't very cold but smells a bit like grass. I am not sure if you can drink it, you can try if you like some adventure.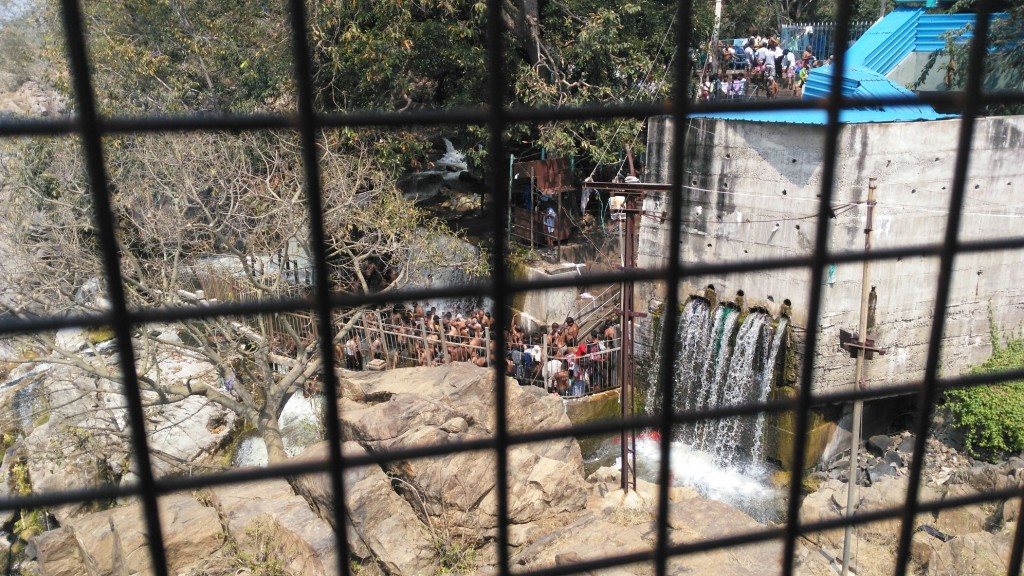 After your bath, get out, change your clothes and run for boating. I was initially reluctant to take the boat ride. Not a big fan as it no more excites me but since my friends wanted to give it a try I hopped in. And that boat ride my friend was one of the best rides of my life. Its a one hour ride between two hills where you will see many fishermen fishing, floating shops selling food, small water falls, deep green water and a beautiful scenery all around. The only thing you might not like is the sun burning your skin so do apply some sun-scream.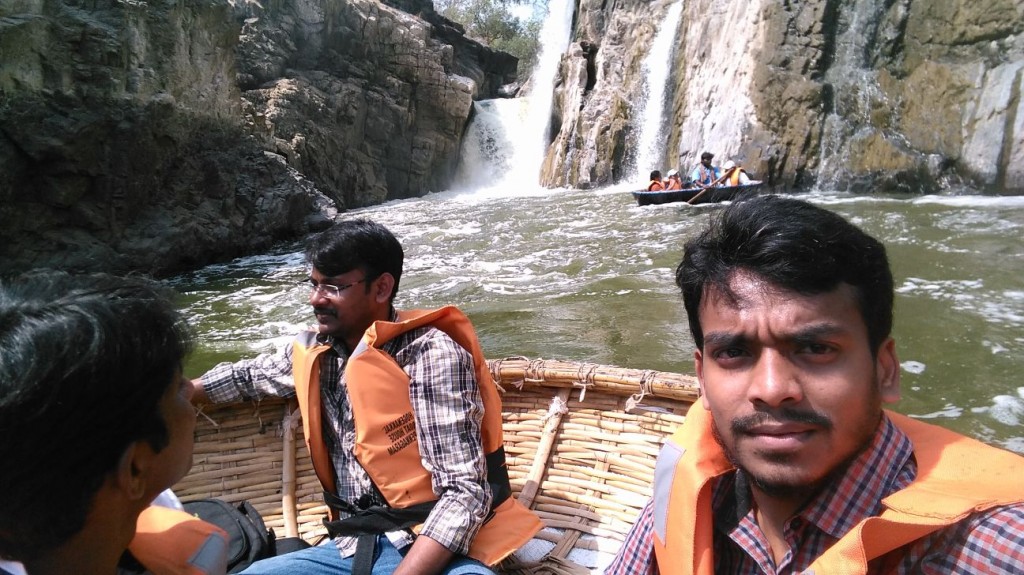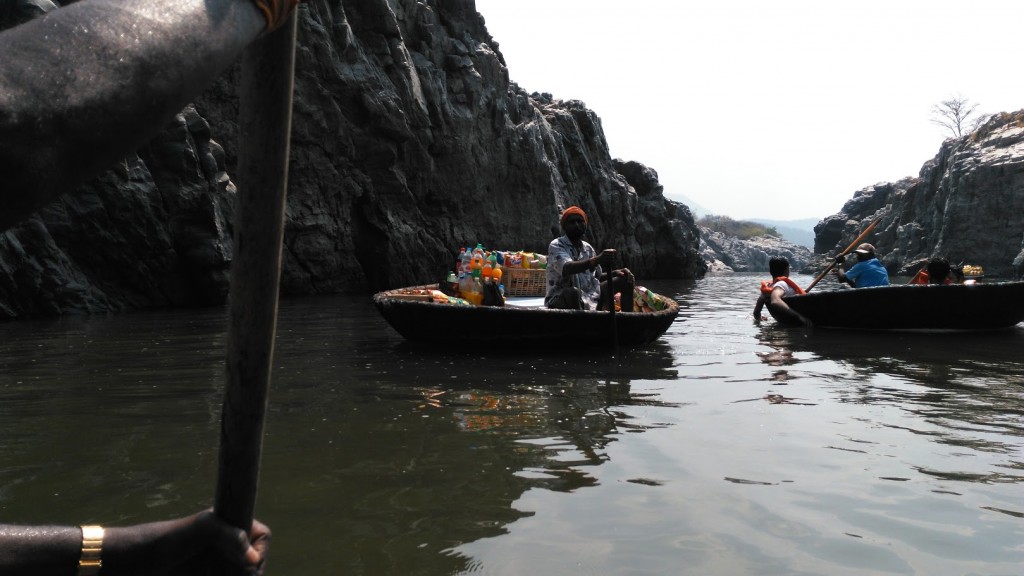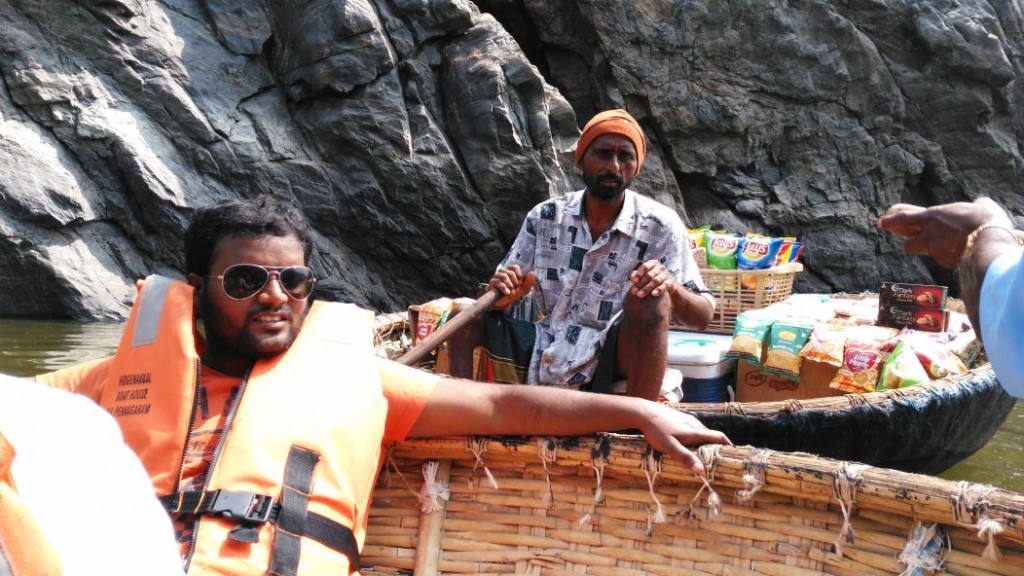 The boatman will take you to a shore where you will see small huts and few ladies making fish fry for the visitors. This is where you will probably want to feed your tummy. Give them the order and walk around on the sand and click some pics while the ladies prepare your fish. I am a vegetarian so can't say much about the taste but my friends say they loved it!
After you are done running around and tired of sun tanning your skin, get back to your boat. You can eat your fishes on the way back.
Below is the pic we took with our boatman. I forgot to ask his name but he was nice, he was telling us cool stories about the place and how the locals are making their living selling fishes and boating. He was a Tamilian and was fluent in Kannada. I am not sure if he can speak English or Hindi.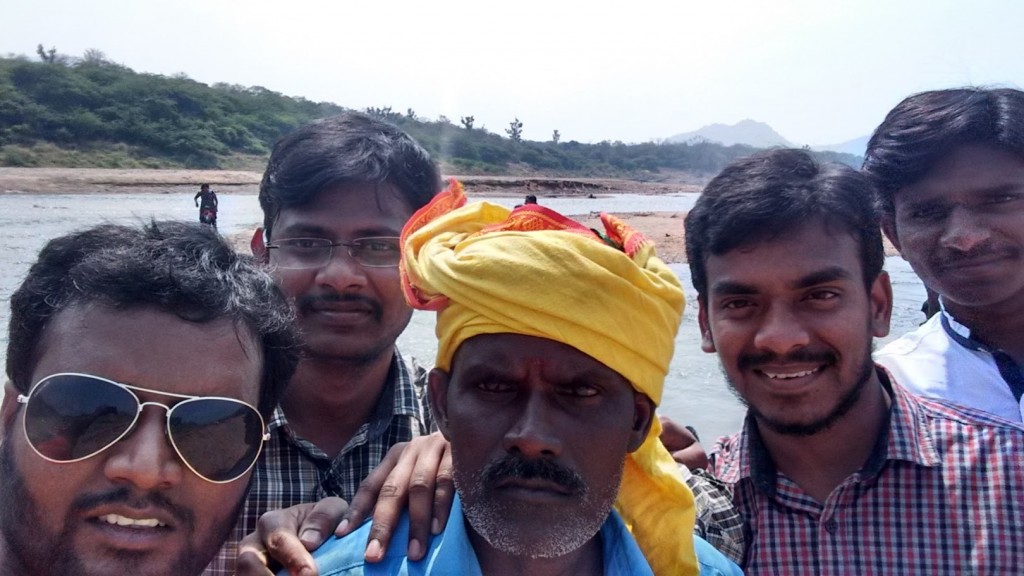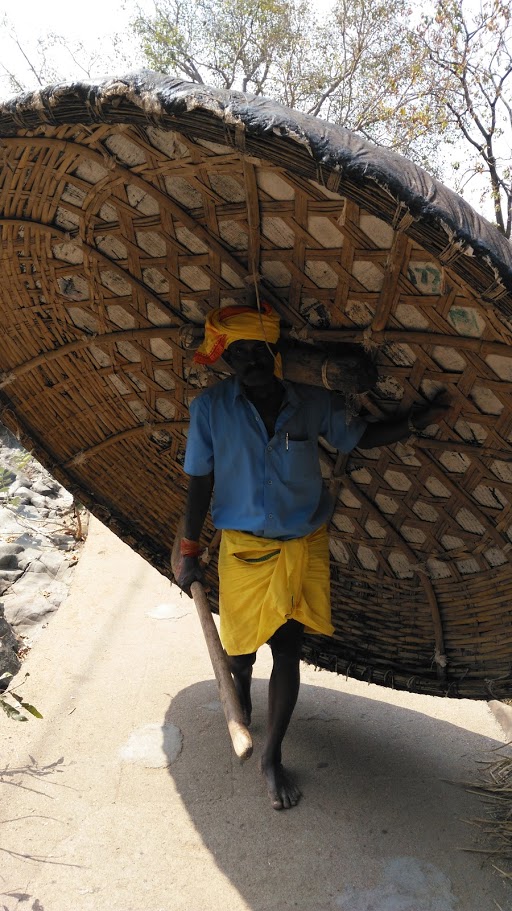 After an hour long ride, we gave the boatman his tip and said our goodbyes to him.
It was around 3:00 now and we were very hungry, so we came out to a restaurant and had a nice heavy meal and were back on road to Bangalore.
For a one day trip away from pollution, dust, work, noise and traffic, Hogenakkal falls is a great place for everyone.